Life Was So Simple...Then Your Vision Turned Poor.
Remember reading your favorite childhood book or spending precious time with your family effortlessly?
When your vision deteriorates due to a condition, life goes from effortless to difficult in a matter of months.
Don't be concerned, Vision Buddy is here to help with your low-vision problems.
What Is Vision Buddy?
Vision Buddy is the world's first vision enhancing system for the visually impaired with TV watching capability. It is a life changing technology for Individuals suffering from eye conditions like Macular Degeneration, Glaucoma, Retinitis Pigmentosa and many others. Connect the included streamer to your TV and start watching HD TV inside the headset. Zoom in or out to enjoy a movie theater experience right in your living room. With a click of a button switch to magnification mode and see the world around you.
How can my Life Change with Vision Buddy?
Vision is something that many people take for granted their entire lives.
You only notice how important it is once you lose it.
With a Vision Buddy on, you can regain your vision and use it to its fullest extent.
You can do things like...
Watch your favorite TV show

Read a classic book/magazine

See faces of loved ones clearly again.

Even enjoy a game chess,checkers, or cards with your best pal.

and so much more!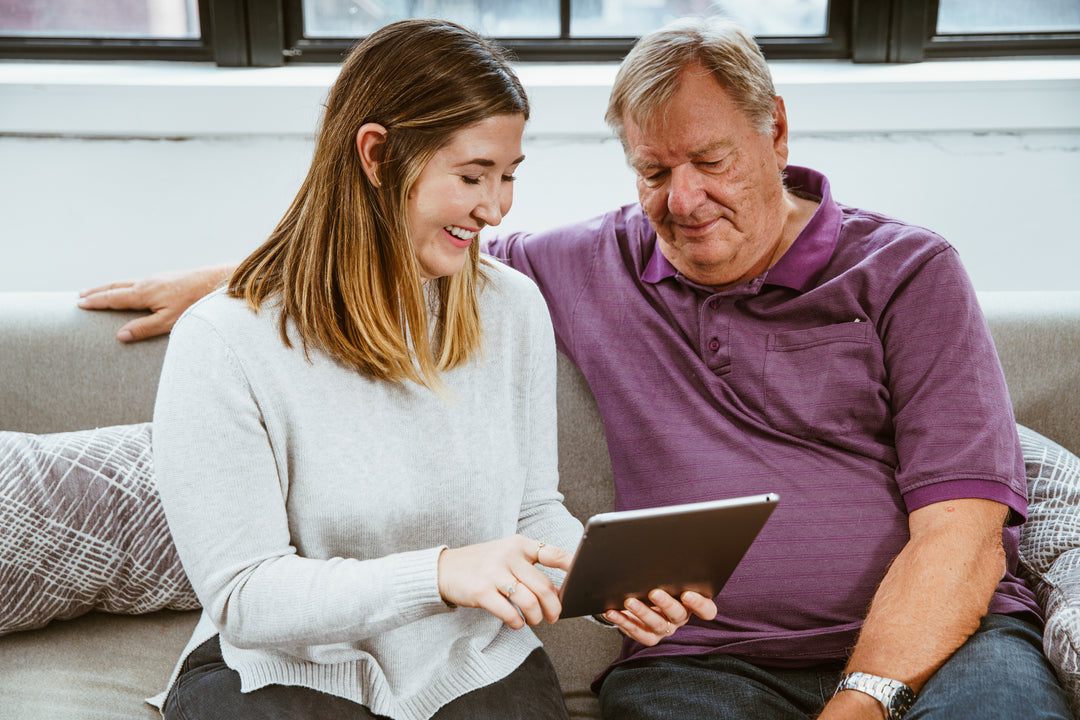 Vision Buddy Advantage
Has a TV watching system, that you can use to watch tv or your computer screen. You can magnify and make the screen bigger. You are able to watch TV much better compared to watching it through the camera of other products. With Vision Buddy you get HD quality video and stereo sound. THe range of the streamer is 30 feet so you can be lying in your bed and watching TV.

Easy setup connects to your existing TV provider box, comcast, satellite, roku apple tv or laptop ipad as long as there is an HDMI output.

Headset is smaller and lighter, it is half the weight of other competitors at half a pound.

Easy controls, just 3 buttons, zoom in, zoom out and change mode. There is no touchpad or 15 modes or 1 month training needed for using the product

Has a magnification mode and inverted mode for reading

1 month return policy

free upgrades

1 year warranty

free customer support
Proud Customers of Vision Buddy
See what customers with vision conditions said about Vision Buddy.
Reading is so Easy now!
I used to just scan the pages without even being able to read the words. With Vision Buddy, I can read everything super clearly.
Jeremy (Macular Degeneration)
Vision Buddy is Truly a Blessing.
I literally threw away my reading glasses after I got my hands on Vision Buddy. Everything around me is now clear as day. I'm forever grateful!
Saleem (Glaucoma)
Watching TV is effortless now.
I was buying bigger TV's, thinking that the reason why I couldn't see anything was because they were too small. Safe to say, Vision Buddy is saving me money on buying new TV's because it displays my show right into the headset!
Tom (Glaucoma)
Lifetime Support
Vision Buddy also comes with lifetime customer support and free software upgrades. Our team can help you set up or fix any problems you have. Just call, email, or use our website's chat. We appreciate our customers and every Vision Buddy Headset will always get free access to new features!
Reclaim your Vision and Independence.
Simply fill out the form below and do it as soon as possible! We'll get back to you within one day and answer and questions or concerns you may have.
11501 Dublin Blv. Ste 200